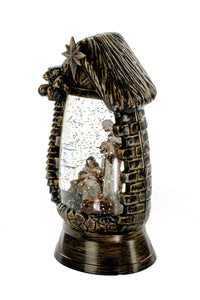 The nativity scene in this bronze manger will make a wonderful display piece for any display.  Enjoy the warmth and beauty of this piece as the light shines out and warms your home.
No need to shake this snow globe, just flick the switch to turn on the light and start the flakes swirling, to give the appearance of snow falling around the miniature scene. This will capture the imagination of all as the lovely lit scene comes to life in your home. 
This snowglobe features an auto timer that will let it stay on for 6 hours and turn it off for the next 18 unless you flick the switch to turn it on and off again.  
Requires 3 AA batteries - not included.
10"