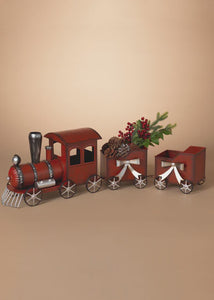 This large wonderful metal train is three feet long! It features a beautifully historic design in holiday red with silver bows on each car. It's guaranteed to add a touch of spirited whimsy and vintage appeal to your decor.
This large piece can be the focal point to build your display around. One unique piece may work better in your space than loads of tiny knickknacks. Add some smaller and medium pieces to create balance but remember, large accessories should be placed first and sparingly, with medium- and small-sized accessories filling in and adding balance where needed.
Perfect for the train lover on your list.
3' Long